Our Diary Dates section is intended as a guide only.
We advise any interested exhibitors to contact the organisers of each event for more up to date information.
If you would like your event to be featured free of charge in this section and reach our trade food and drink readership –  please email publisher@fdmb.co.uk
May
26
Sat
Taste Ulverston

@ Ulverston
The Saturday 26 and Sunday 27 of the Bank Holiday weekend at the end of May is when Taste Cumbria comes to Ulverston, Cumbria's 'festival town'.
Every year we host a big producers' market, loads of free expert demonstrations, a hot food court, and plenty to keep even the littlest foodies happy. With the generous support of Ulverston Town Council, plus brilliant partners like the team from Ford Park and the local businesses, this is a great place to take the family.
New for 2017 was an exclusive pop-up restaurant, courtesy of Michelin-starred chef Kevin Tickle from The Forest Side at Grasmere. He and his team transformed the Hoad, Ulverston's famous monument, for an intimate dinner for invited guests. This year, there are plans to launch an Ulverston pop-up on a much bigger scale – though the venue is still under wraps.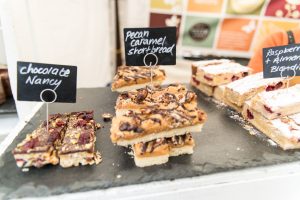 Photo courtesy of Taste Cumbria http://tastecumbria.com/taste-events/taste-cumbria-ulverston/
Get the dates in your diary for 2018 and watch this space!
Food producers, traders and suppliers who would like to book traders' pitches should call 01228 612740 or apply through our booking form here!
The Clogg Market – Rawtenstall 1940's Weekend
Proudly independent and outdoor on The Town Square in Rawtenstall in the Rossendale Valley, Lancashire. Our makers, bakers and creators sell antiques, vintage, collectables, artisan handmade, arts&crafts, food, patisserie and other cool stuff. We have a small selection of streetfood traders plus craft beers and gin! We encourage you to sit, chat, shop, watch, laugh, eat and join in.
We also attend other Rossendale events with 'pop ups'  throughout the year. Look at our news and on our social media pages for event information. See our traders creations in the gallery
Rawtenstall is just at the end of the M66 Motorway, you can take a Witchway X43 bus, a Rosso bus or jump on the East Lancs steam train at Bury or Ramsbottom.
Stalls and pitch applications are welcome for vintage traders, handmade creators,  artisan foods and street food traders. Complete a booking form and return to us by email – we'll get back to you. You can also contact us by phone 07891478476 or email info@theclogmarket.co.uk.
To book a space http://www.theclogmarket.co.uk/booking-form/
The Great British Food Festival

@ Harewood Hall
The perfect recipe For a fun, foodie, family day out!
So why do so many of our visitors come back every year?
Is it for the fantastic food and drink? Delectable delights and tasty treats from our wonderful street food vendors and amazing artisan producers. To polish up their culinary skills with our free Chef Demos? Or, to get stuck in with the Bake-Off stars on our free, interactive Bake Stage? Or maybe, it's our cocktail of niche bars, with their tempting tipples, ready to enjoy?
Perhaps it's for the memorable moments, soaking up the atmosphere, chilling to some fabulous live music, sampling the Cake-Off creations, being entertained by the (slightly crazy) Men v Food warriors, all the while enjoying the stunning surroundings of some of the country's most beautiful stately homes? Oh and yes, we do make sure their children are blissfully amused, and the dog can come too!
Don't forget you can get free food festival ticket if you enter our 'Cake Off'!
But that's just what we think! Come along, take a big bite of the action and see if you agree!!